We are excited to welcome you to kindergarten at
Elk Meadows Elementary!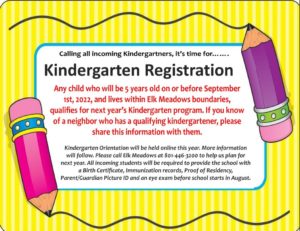 Step 1:
Kindergarten Registration

for completing Kindergarten Registration information
Step 2:
The request form has been turned off.  If you have any questions concerning kindergarten registration, or any registration at all, please contact the main office.  Thank you.
Step 3:
Orientation Videos
for questions concerning Kindergarten  - meet our teachers and administration
 * for a transcript of the five videos included in the Orientation Video

Step 4:
Orientation Activity Packet
for activities to help your new Kindergartener get excited for Kindergarten

 * this is the same packet referenced in the Orientation Video
More information for Kindergarten Parents:
Information from Health Services Office
Health-Services-Packet-2022
Information on Immunizations Required for Kindergarten
Immunization Requirements Kindergarten 2022ENG
Immunization Requirements Kindergarten 2022SP
Form for Certificate for Vision Screening
Certificate-of-Vision-Screening-2022
Kindergarten Readiness Pamphlet
Kindergarten Here We Come Brochure
Kindergarten Here We Come Brochure SP
My 529 Information
My 529 Brochure
My 529 Brochure SP