Please scroll down for more information on:
Checking Students Out of School


Safe Walking Routes


Drop-off and Pick-up Info


Busing Information


Title IX Training Materials
Checking Students Out of School:
For your student's safety, we require a picture ID when checking your child out of school.
Drop-off and Pick-up Info:
Elk Meadows Parking Lot Procedures 2022-2023 School Year
We are excited to announce that over the summer our east parking lot was expanded to better accommodate our school buses. The parking lot to the south of the school on 9800 south will now be for parent pick up and drop off. The diagram below will help you understand our parking lot procedures. We ask for your help and support in following these guidelines in order to keep students safe.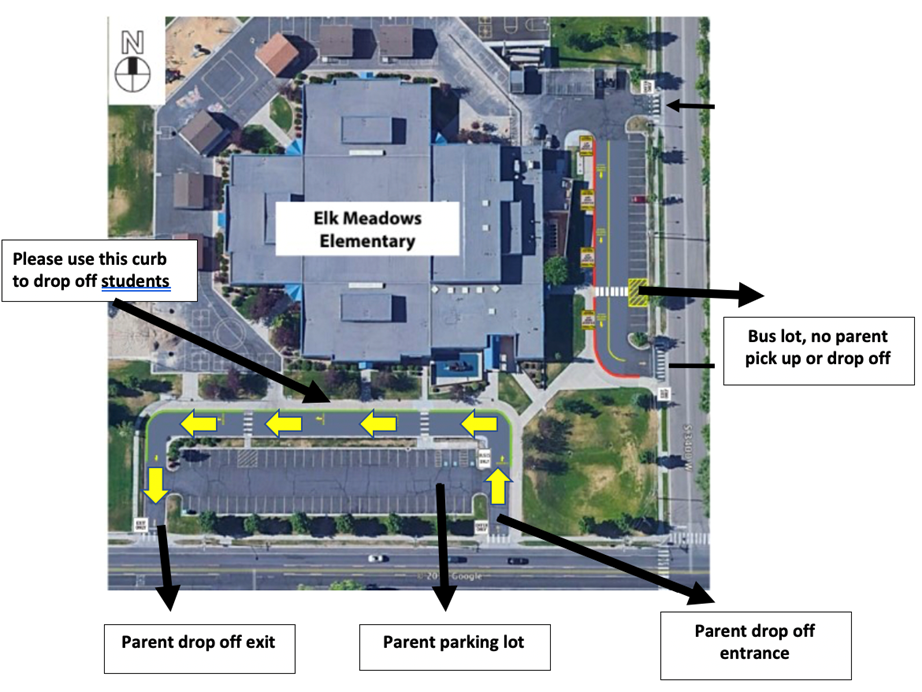 A few parent parking lot tips:
● Please pull all the way forward in order to accommodate the maximum number of cars in our drop off  lane. We understand that it might be more convenient to drop students off directly in front of the office doors, please support us in our effort to keep traffic from backing up on 9800 S and pull all the way forward.
● There are two lanes in the parent parking lot, a drop off lane (right lane) and a passing lane (left lane). Please only drop off students on the curb from the right lane.
● If you choose to park in the south lot, please walk your child to the nearest cross walk. There is no adult supervision in the parking lot.
● Please do not park on any of the side streets and ask your child to cross for drop off or pickup. The traffic is very busy especially during these times. We want every child to be safe traveling to and from school.
● No cars will be allowed in the east lot for pick up and drop off as that is now our bus lot only.
Busing Information:
If you are interested in finding out information concerning busing, please contact the office at 801-446-3200.