---
Elk Meadows Elementary Mission Statement:
Elk Meadows Falcons are growing to be
resilient, lifelong learners.

♦

Principal's Message - End of School Year
Falcon Families,
We have officially made it through one of the most difficult years... and we have done it together! If there is one beautiful lesson that I have learned this year, it has been that children can do hard things.  We can wear masks, we can love unconditionally during crisis, and we can continue choosing to be happy despite all of it.  I love how together this year we have focused on the Golden Gate Pledges that have helped us develop our character and learn important life lessons.  I say we because these are skills that we celebrate in our students as well as our adults. What a great year to do this together!!!
I hope that this summer can be full of rest and relaxation for our Falcons! I know last summer was very different than usual.  I'm excited to hear about all of the fun family time and travel that will be had.  We hope our community takes the time to recharge for the upcoming year.
I am excited about next year and the new and exciting things that are on the horizon for Elk Meadows.  I am continuously grateful for the most supportive community.  Thank you for sending your most precious treasures, your children, to us every day!  I hope you know how much I enjoy being the principal of this great school.  I can't wait to open our doors again to our community.  I think after this year we will all value smiles and connection a little bit more.  Have a fantastic summer Falcons! We can't wait to learn and grow with you in the 2021-2022 school year!
Love,
Mrs. Smith
♦

Jordan School District Board of Education Message: 5-19-2021
Since the beginning of the pandemic, the Jordan School District Board of Education has followed all health directives from the state of Utah regarding masks in schools. Recently, Governor Cox lifted the mask requirement for the last week of school, giving districts the authority to extend the mask mandate at the local level if they so choose. 
The Jordan School District Board of Education will not be extending the state's mask mandate. As a result, masks will not be required in Jordan District schools, buildings, or property starting Tuesday, June 1, 2021. This includes, graduation, school activities, year-round school, and summer school. Anyone who wishes to continue wearing a mask is encouraged to do so.
♦

Principal's Message - May
Falcon Families,
I can't believe that we have arrived in May.  We are winding down our school year and have big plans for the end of the year to celebrate.  For our last full month at school, we are focusing on the final Golden Gate Pledge, "I will be my best self!" In our virtual assembly, we read two different books, The World Needs Who You Were Made to Be and The Barking Mouse.  Both books talked about how our differences are what makes our world great.  This month we want to help students understand the importance of being their best self, that means focusing on traits or skills that might be unique to them.  Help your child identify things about them that make them great! Help them identify how they can use that trait to help others.
I want to take a second and celebrate Mrs. Emily Crane one of our fantastic 5th grade teachers.  She was nominated and won teacher of the year! We are so proud of the work she does at Elk Meadows with our students.  Congratulations Mrs. Crane!!! So glad you are part of our Falcon Family.
We would also like to thank the PTA and our fantastic community for the wonderful celebration for Teacher Appreciation this week.  Our amazing Elk Meadows teachers sure do deserve to be celebrated!
I am so proud of all of our students who are working hard during our end of level testing.  We are excited for them to cash in their tickets on May 24th and celebrate the end of RISE testing together.
The end of the year is going to be so much fun, below you will find our schedule.
Please remember to send your child with a water bottle and sunscreen on our Field Day.  We are excited to end this year with so many fun activities!!!
Let's celebrate us conquering so many hard things this year,
Tiffany Smith
♦

Virtual Registration Information
♦

Kindergarten Orientation
We have a NEW PAGE!!  See our Kindergarten Orientation page for all information concerning getting started with Kindergarten.
♦

Free School Lunch
Falcon Families,
We wanted to provide information to you regarding the free lunch announcement from yesterday. You received an email from the Jordan School District letting you know that Nutrition Services will begin offering meals at no cost to all enrolled students beginning Tuesday, Sept. 8, 2020, at all school locations. That means no students will be charged for breakfast or lunch.
We want to remind those students that are learning at home or online that they may come and get lunch from 11:00-12:30 MONDAY-THURSDAY by coming to the cafeteria door on the northeast side of the building and ring the doorbell.  A staff member will let the students in to get their lunch and then they will exit the same cafeteria door with their lunch to go home and eat.  We are asking that if you would like lunch for your child to please call the office and let us know so that we can make sure we have enough lunches available.
On FRIDAY all enrolled students are invited to come and get a grab and go lunch from 11:00-12:30. If your student has been invited by their teacher to come to school on Friday then they will eat lunch in the cafeteria during their assigned time.  If you were not invited by the teacher you may come and get lunch from 11:00-12:30 by coming to the cafeteria door on the northeast corner of the building.  Students will ring the doorbell and a staff member will let them in to get their lunch.  We are asking if you want lunch on Friday please call the front office and let us know so we can make sure we have enough lunches available.
If you have any questions please feel free to contact the front office.
Thank you!
Elk Meadows Staff
♦

Virtual Back to School Night!
We are excited to invite you to our Virtual Back to School Night! We can't wait for our new school year to begin. Even though we can't meet in person for Back to School Night this year, you will still be able to meet Elk Meadows teachers, hear from the office, and learn more about the upcoming school year. Click the link to join us  -  Virtual Back to School Night!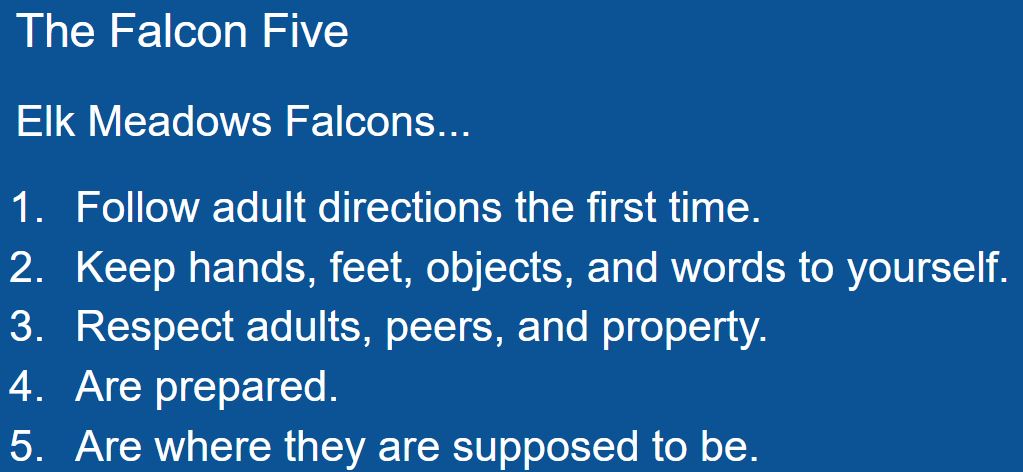 ♦

Elk Meadows Elementary 2020-2021 School Reopening  Plan
To view the information that was sent to parents and employees, please click the link to view the Reopening Plan.

♦Volunteer Video - link and information page
Thank you for understanding that we are still unable to have parents in the building in order to simplify contact tracing and to keep our students and staff members safe.
---