---
Elk Meadows Elementary Mission Statement:
Elk Meadows Falcons are growing to be
resilient, lifelong learners.

♦

Principal's Message
Falcon Families,
I want to thank each one of you for supporting our PTA for our first ever Break the Rules Day fundraiser.  Together, we were able to raise over $15,000!!!  Thank you for supporting our school in a big way! We appreciate our PTA who focuses on fundraisers where 100% of the proceeds raised go to supporting Elk Meadows students.
Huge congratulations to our online student, Cloee S. whose art made it in the online exhibit through the Springville Museum of Art's exhibition, Up Close and Far Away.  We would also like to celebrate Matthew C. and Joselyn W. for their work with Mr. Duncan to memorize their own retelling of some folk tales.  Their work will be featured in our district storytelling festival.
We are excited to focus on our Golden Gate pledge for the month of April, "I will be a problem solver!"  Together in our virtual assembly we read, "What Do You Do with a Problem?"  This book talks about the beauty of facing our problems and the learning that comes from it.  Take this month to help your children go through that problem solving process and point out the learning that takes place.
Meals at school will continue to be free through the end of the 2020-2021 school year but we encourage families who qualify to fill out the Free and Reduced Lunch forms in order to be receiving that rate come August.  Ask our front office for a form.
End of year RISE testing will commence at the end of April and extend into May.  Please ask your child's teacher in grades 3-6 about your specific testing schedule.  Watch for more information on our RISE Olympics as to how we are going to make this testing experience a positive one for our students.
Families, you are an important part of our Elk Meadows community! We appreciate your support more than you know.  Thank you for helping ours to be the best school community around.
Thank you,
Tiffany Smith
♦

Kindergarten Orientation
We have a NEW PAGE!!  See our Kindergarten Orientation page for all information concerning getting started with Kindergarten.
♦

Free School Lunch
Falcon Families,
We wanted to provide information to you regarding the free lunch announcement from yesterday. You received an email from the Jordan School District letting you know that Nutrition Services will begin offering meals at no cost to all enrolled students beginning Tuesday, Sept. 8, 2020, at all school locations. That means no students will be charged for breakfast or lunch.
We want to remind those students that are learning at home or online that they may come and get lunch from 11:00-12:30 MONDAY-THURSDAY by coming to the cafeteria door on the northeast side of the building and ring the doorbell.  A staff member will let the students in to get their lunch and then they will exit the same cafeteria door with their lunch to go home and eat.  We are asking that if you would like lunch for your child to please call the office and let us know so that we can make sure we have enough lunches available.
On FRIDAY all enrolled students are invited to come and get a grab and go lunch from 11:00-12:30. If your student has been invited by their teacher to come to school on Friday then they will eat lunch in the cafeteria during their assigned time.  If you were not invited by the teacher you may come and get lunch from 11:00-12:30 by coming to the cafeteria door on the northeast corner of the building.  Students will ring the doorbell and a staff member will let them in to get their lunch.  We are asking if you want lunch on Friday please call the front office and let us know so we can make sure we have enough lunches available.
If you have any questions please feel free to contact the front office.
Thank you!
Elk Meadows Staff
♦

Virtual Back to School Night!
We are excited to invite you to our Virtual Back to School Night! We can't wait for our new school year to begin. Even though we can't meet in person for Back to School Night this year, you will still be able to meet Elk Meadows teachers, hear from the office, and learn more about the upcoming school year. Click the link to join us  -  Virtual Back to School Night!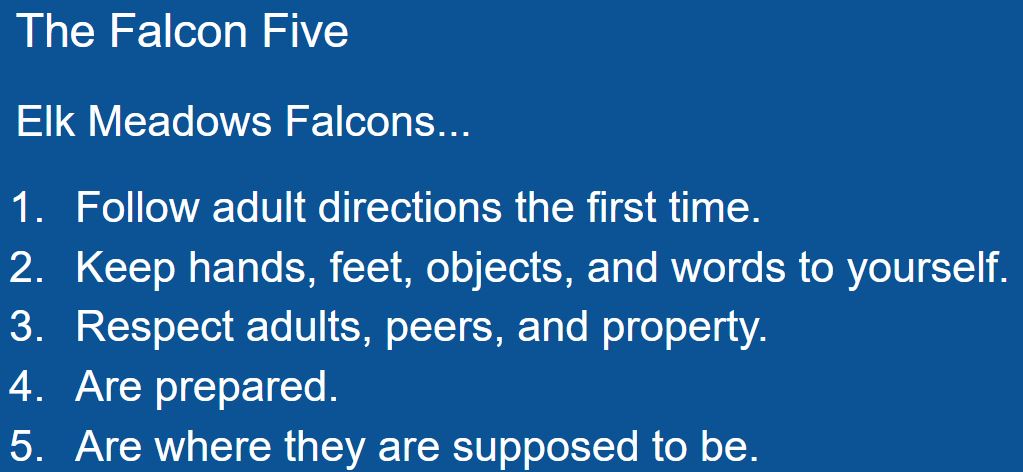 ♦

Elk Meadows Elementary 2020-2021 School Reopening  Plan
To view the information that was sent to parents and employees, please click the link to view the Reopening Plan.

♦Volunteer Video - link and information page
Thank you for understanding that we are still unable to have parents in the building in order to simplify contact tracing and to keep our students and staff members safe.
---