Elk Meadows Elementary Mission Statement:
Elk Meadows Falcons are growing to be
resilient, lifelong learners.

For a more clear picture of the announcement, please click here.
♦

Principal's Message
Falcon Families,
Welcome back Falcons!!! We hope you had a lovely break.  We appreciated some time to recharge.  We are ready to start a new year and are excited for 2021.
Our Golden Gate Pledge this month is:  I will be in charge of my own happiness.  Before the break, we read the book Hip Hip Hooray for Annie McRae in our virtual assembly.   This book has a fantastic story line about a little girl who has many people that love and care for her.  She learns that she doesn't always need them cheering her on but that she can be her own cheerleader as well.
As a reminder, it's an Inside Day when it feels like less than 21 degrees or is poor air quality.  Remember to send your children to school with warm clothing for before school and recess.
We are starting to think about kindergarten enrollment for next year.  Please watch for information to come home if you have a child who will be joining us for kindergarten next year.
Online semester changes will take effect on the 20th of January for those who are moving to a different learning format.
January 18th, there will be no school for Martin Luther King Jr. Day.  January 19th, there will also be no school for our teachers to have a Professional Development Day.
Thank you so much for your continued support and we look forward to a fantastic new year together.
Best,
Tiffany Smith
♦

We are a Golden Gate Movement School!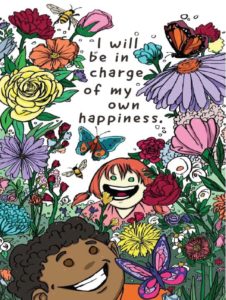 Click here to read January Golden Gate Kids Newsletter
♦

New Paint Striping on 3400 West
We are so excited!  Many of you have experienced the changes on 3400 West, and many more will as we continue with carpool.
We are so grateful for the support and diligence South Jordan City has given our school and our most important feature – our children.  The city has been proactive, and has undertaken the following measures:
initiated multiple studies
installed three traffic cams to monitor activity
observed numerous pick up routines
carried out many conversations with city and district officials
We appreciate that the city's goal is in alignment with ours: keeping our children safe.
Please review the aerial schematic of the changes that took place on 3400 West (the street area directly east of the drop off / pick up area for our school.)
Please note:
We now have a designated area for parking on the west side of 3400 West. This allows children to safely enter the parked car on the passenger side keeping them away from traffic at all times.
We now have a designated left turn lane allowing cars to que for turning into our drop off / pick up area. We are pleased with this new safety approach as you wait your turn to pull into the drop off / pick up area.
With the addition of a designated left turn lane, we are able to have two lanes of traffic moving safely in a northbound and southbound pattern.
We will continue with the northern inlet being the ENTRANCE to our drop off / pick up area. Please do not block the crosswalk area while waiting to pick up your children.
We will continue with the southern inlet being the EXIT ONLY area of the lot. Please do not use this area as a U-turn station or back into the lot.  Our Safety Resource Police Officer will be on-hand for guidance.
We understand traffic builds up in this area of the street as we all await school dismissal time.  As winter weather approaches, we will see an uptick in traffic and congestion.  Please be patient with all those around you to make this a smooth drop off / pick up routine.  Perhaps a designated meeting place outside the drop off / pick up area would benefit your family.
Fun Fact:  It feels like afternoon pick up is so long and can be very annoying.  Through the studies done, you might like knowing that our school repeatedly completed the pick up routine in under 15 minutes!!
3400 West schematic of changes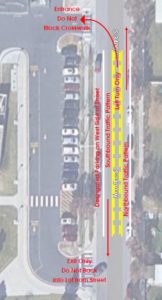 ♦

NEW PTA School Spirit Shirts
Our NEW school spirit shirts are available to order!  See picture below for colors and image design.  We are going retro!
♦

Free School Lunch
Falcon Families,
We wanted to provide information to you regarding the free lunch announcement from yesterday. You received an email from the Jordan School District letting you know that Nutrition Services will begin offering meals at no cost to all enrolled students beginning Tuesday, Sept. 8, 2020, at all school locations. That means no students will be charged for breakfast or lunch.
We want to remind those students that are learning at home or online that they may come and get lunch from 11:00-12:30 MONDAY-THURSDAY by coming to the cafeteria door on the northeast side of the building and ring the doorbell.  A staff member will let the students in to get their lunch and then they will exit the same cafeteria door with their lunch to go home and eat.  We are asking that if you would like lunch for your child to please call the office and let us know so that we can make sure we have enough lunches available.
On FRIDAY all enrolled students are invited to come and get a grab and go lunch from 11:00-12:30. If your student has been invited by their teacher to come to school on Friday then they will eat lunch in the cafeteria during their assigned time.  If you were not invited by the teacher you may come and get lunch from 11:00-12:30 by coming to the cafeteria door on the northeast corner of the building.  Students will ring the doorbell and a staff member will let them in to get their lunch.  We are asking if you want lunch on Friday please call the front office and let us know so we can make sure we have enough lunches available.
If you have any questions please feel free to contact the front office.
Thank you!
Elk Meadows Staff
♦

Virtual Back to School Night!
We are excited to invite you to our Virtual Back to School Night! We can't wait for our new school year to begin. Even though we can't meet in person for Back to School Night this year, you will still be able to meet Elk Meadows teachers, hear from the office, and learn more about the upcoming school year. Click the link to join us  -  Virtual Back to School Night!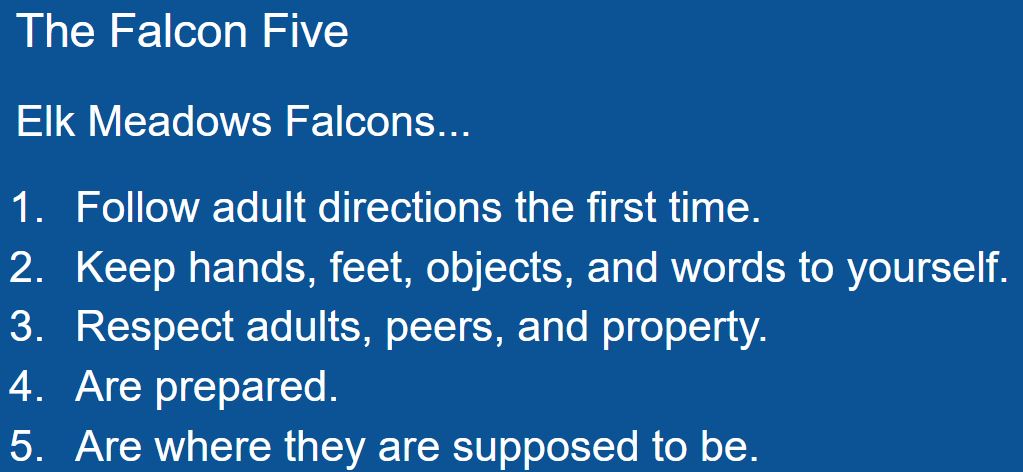 ♦

Elk Meadows Elementary 2020-2021 School Reopening  Plan
To view the information that was sent to parents and employees, please click the link to view the Reopening Plan.

♦Volunteer Video - link and information page
Thank you for understanding that we are still holding off on parents in the building in order to simplify contact tracing and to keep our students and staff members safe.
---